So here I am... three weeks later! I have not been able to post because I have been actively procrastinating studying for a test I had yesterday. I had a horrible week this week *pronounced by PMS*. Anyways, I am back and starting to get back into the swing of things!

So, to wrap up...

1. On Valentines day T got me this really cute card that read "For My Wife on Valentines Day". It was really cool. The day after she had multi colored roses delivered! They were really beautiful. That night though the cats knocked them over onto my keyboard and fried it.... so I got a keyboard too! *I can laugh about it now. I was pretty pissed at the time! The water sat on my new desk for a while and the very edge of it is kinda swollen up!* Anyways, the cats are still alive, so its all good!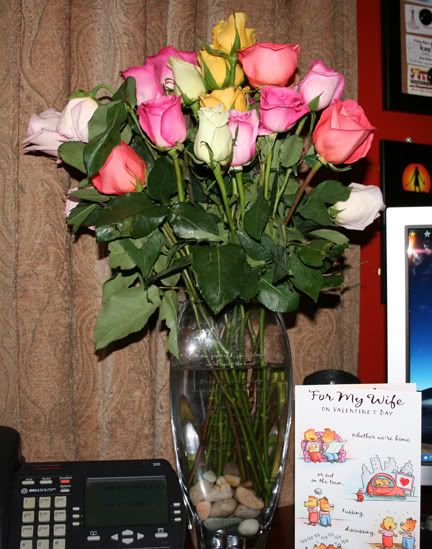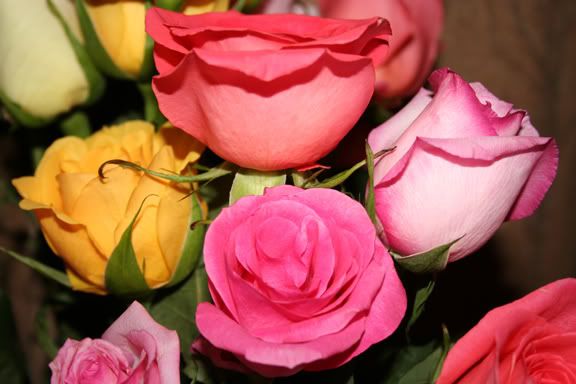 2. On Valentines day T, myself, and a friend of ours (Dot) went back out to Athens, GA to catch another 'Lady Dawg's' bball game. They played really well, and seemed to be more confident with their team chemistry. After an astonishing 32 points they took Tasha out of the game. By the end of the game all the starters were out, which was particularly awesome because we got to see Jaleesa Rhoden play. I have made her my official favorite player because she is from London! I met her last year and she seems like a really awesome person too... which is cool, because I would hate to have to pull for an asshole! ;) They were wearing their pink uniforms for breast cancer. It is a fund raiser or something that is put on by the NBCA. Pretty much all the women's basketball players were doing it across the country it seems. Anyways they won 85-66 and it was a great game!

The first 3 pictures are from the earlier game against LSU. They lost 63-57.. a nail bitter considering that Georgia is ranked #6 and LSU is ranked #4. Anyways they wore the pink uniforms! The 4th picture is UGA vs FLA.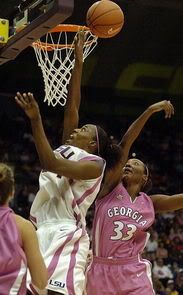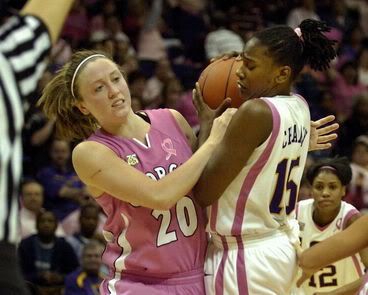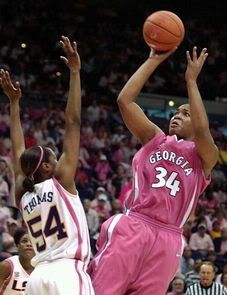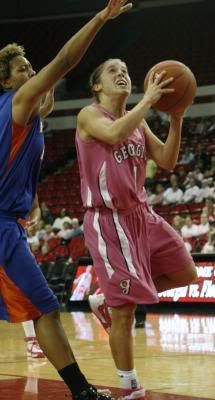 3. We got the roster for the Atlanta Dream. T and I were a little disappointed to see Ivory Latta on the list. She was a graduate last year.. and I just remember watching her gloating and prancing around on the court and thinking she was a jackass. I am hoping a year with the professionals have chilled her out. We shall see! Dot is pretty stoked, because Latta is one of her favorite players!

4. The last couple of weeks I have been orienting an experienced ICU nurse. I have found it rather challenging... as I normally do... because of my OCD nature. I have been working on my 'letting go'! I would say that I still have some work to do!

5. Last of all was CVD yesterday. I was totally wigging over it, but it turned out pretty well after my 'near all nighter'! I have promised myself *again* that I will start studying earlier next year!

I think that is the bulk of what happened this month. We are getting set to go out to Athens again on Sunday. But for today we have plans to go out and get T some free weights (my early anniversary gift to her, by request).. and perhaps some clothes for her to play soft ball in. Their first practice of the season is next week and she is getting pretty excited!