This week has also been busy. I ended up working extra on thursday, so my weekend didn't start until Friday.

Friday we went out and had dinner. After that we went shopping (read: walked around the shops... lol), and then came back home and played with our 'Sims'.

Saturday we played the game some more and then went out shopping again. We tried to order our bedside tables from Pottery Barn, but as it happens they do not carry them in the stores anymore - which doesn't make sense because they have them IN the store. *shakes head* I was pretty miffed after that. From there we went out to our sushi place... which was awesome! I love sushi! After that we got some 'Starbucks' and headed home to play with our 'Sims' again.

Sunday, I actually got myself together enough to get the place cleaned... though T did a lot of the work! We went out to her first Softball practice. She is playing for the MCC team for the Decatur Women's League. It was great getting to see some of the ladies again! After that we finished off cleaning the house and then trekked out to Athens again to see the Lady Dogs play. This was their final home game of the season and the place was stacked to the rafters since it was the UGA(#20)/Tennessee(#3) game. The ladies kept it REALLY close up and and until the last 11 minutes or so. They were actually leading at half time 29-26. Alas, the final score was 63-72, and UGA lost as expected. I was really proud of the girls though. They really played hard! One interesting thing was that it was seniors night... so all the seniors on the team got recognized for all their hard work. The senior girls were Darrah, Rowsey and Humphrey. Rowsey was injured in February and had to be taken out of the final weeks of games because she had to have surgery. The cool thing is that Humphrey played her number (#50) for the final game. I think that was a really classy move on her behalf. Megan Darrah broke some records as well last night. She is now tied with number of games played as a Lady Bulldog with Teresa Edwards at #10 with 128 total games. She is also tied at #5 with Kim Berry with number of 3-point field goal attempts with 442. All in all I am very pleased with how they played last night. I hope they carry that momentum into post season as they play Alabama in the SEC tournament on thursday.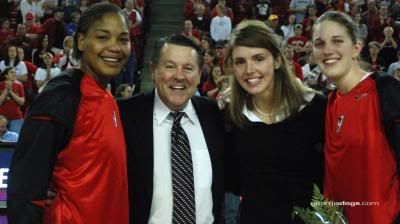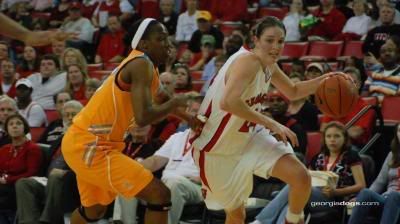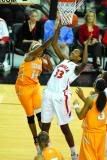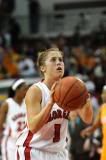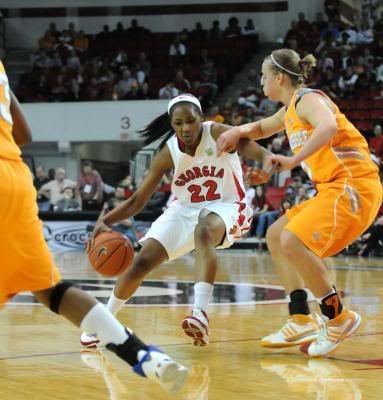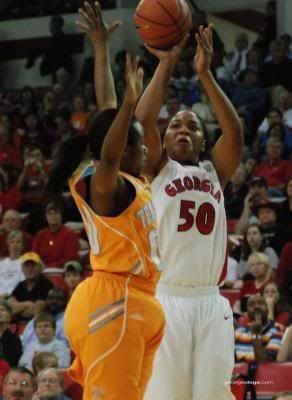 The first picture is of Andy Landers with Tasha Humprhey, Rebecca Rowsey, and Megan Darrah. The second picture is of Megan Darrah. The third is of Angel Robinson, who did a great attempt to slow Candace Parker down. The fourth is of Ashely Houts. The fifth is of Christy Marshall, who also played excellently! Finally sporting her injured co-seniors jersey (#50 - Rowsey) is Tasha Humphrey. Man do I ever hope she goes to the Dream in the post NCAA draft!! *fingers crossed*!