Maybe one day I will forget the day I met you.
Maybe one day I will forget every 'I love you', every 'I miss you', and every 'good night'.
Maybe I will forget the way that you called me what you called her...
.. but maybe I won't...
.. and our long nights on the phone will be nothing but a void, in your skeleton of memories.
Maybe just because you say you will marry someone and promise them the world does not mean anything when you can't even bridge the distance between Orlando and Miami.
But just because you say: 'Babe, she doesn't matter'... doesn't mean that she's not on your mind.
.. and don't call me crazy because we were once them... and don't call me lazy because I dare not put myself through the misery of fighting for first place.
And now every 'I love you' will be part of a backseat conversation and you'll be buried in the trunk of my car where we looked at the stars and basically said our 'I do's'.
And now what was once a fairytale story is a story that we mourn... because our love died in my arms. Refusing to let go I gave us CPR... refusing to accept the death of our future. I tried so hard but who's grave do I go visit when I miss you... because you're not really dead you just left without warning.
.. because after you said 'I'll marry you one day' you said 'I need time to think'.
How the hell does someone go from making children with each other to I hope you have a good life.
But I do... I hope you have a good life.
(
Read more...
Collapse
)


So. These are some of the things I was going to blog about, but will have to settle for mentioning that they did in fact happen.

1. Tornado in Atlanta. Man, some of the damage was just incredible! Not by Florida standards... but I had never seen it that bad before!

2. We went to the Women's College Basketball NCAA Tournament, or the 'Final Four'. It was in Tampa this year, and was a lot of fun - even though Tennessee won... again.

3. T, Dot and I got season's tickets to the Atlanta Dream. The Dream is the brand new expansion team from the WNBA. It was a... hrmm... losing season (to say the least)... but we had a lot of fun watching them loose. T and I discovered Carvel Ice cream. YUM!

4. We visited London this summer, and had an AWESOME time. There were some pretty cool pictures taken, and I will try to get some of those posted at some point. In particular there was this series I took of Megan that was so awesome I am going to scrapbook them at some point. Yup. Right after I scrapbook my wedding pictures.

5. We (yes hun, I said 'we' this time) celebrated our 1st wedding anniversary. Unfortunately I don't remember what exactly we did... but I am sure it was awesome. I will confer with my better half and get back to you on that.

6. We went to DragonCon. It was awesome as usual. I enjoyed in particular listening to the Firefly panels, and the few panels on Torchwood.

7. We are just wrapping up the fall season of T's Softball. She hit a 'grand slam' in the second last game and was excited about that for about... well... she is still excited about it!

That's all I can think of to this point. The topics I have been mulling over in the recent past have been the election, and Palin's part in the whole drama. The economy has also been catching my attention as of late. I have been getting really stressed over my personal finances, so this in combination with the spiraling of the economy has encouraged me to increase the number of 'extra shifts' I do at work. The most surprising discovery for me as of late is that I have realized that I no longer abhor going to work anymore. I actually like what I do on a good night. Of course I would much rather stay home... but at least I am not having the anger issues I was having before.

I will endeavor to go into these topics more in the future.. but I thought I would at least pop in here to break the ice and bring this place to the forefront of my attention again.

; )
So, here I am. Back again! I get backlogged with all the things I want to blog about.. and find that I don't want to do them out of order. I get hung up on one thing, and get stuck there waiting for either time, or technical support. Anyways, it has gotten to the point that I don't even remember what I was going to blog about!
Current Mood:

happy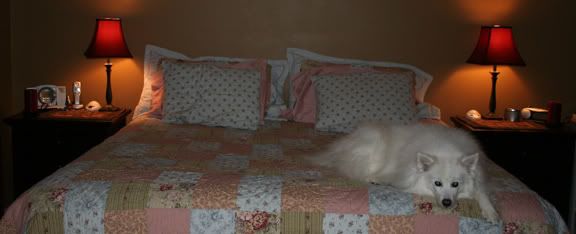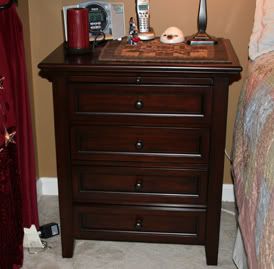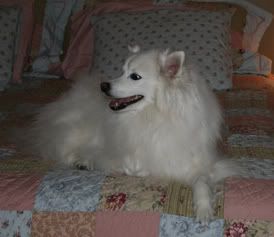 We finally got our bedside tables! We were waiting for a sale.. but decided to bite the bullet and just get them. The folding tables were getting on my nerves! Ordered them on sunday night and they showed up thursday evening. We got them set up friday night and they look awesome! The lamps we got earlier look really good too. We got some pictures tonight that we could share with all of you. As you can see, Britches loves to site on the end of the bed! Before any of you 'smarty pants' can comment... I know that the red curtains don't match the pink in the quilt. If I can live with it... so can you!!
Current Mood:

excited


Thursday was also the first game of the SEC tournament (women's college basketball conference). Georgia beat Alabama 71-62. Tasha seemed to be a little off balance, although Christy was amazing! Ashley was in till the last minute or so of the game when they brought out Jaleesa!! It was good to see her get some play time! The night was topped off by the fact that our bedside tables were delivered! Finally!!

Today Georgia lost to Kentucky 50-57. It was a hard game. Tasha had another hard night. I think a lot of the other team was focused on her.. which was smart. Unfortunately no one else was able to compensate for it. Anyways, they are out of the SEC championship for this year, and will have to start to focus on their hunt for a good showing in the final four.

In other news on the basketball front. Tasha was named to the 'First team All-SEC', Ashley was named to the 'Second team All-SEC', and Angela was named to the 'All freshman team'... for the SEC. Congrats to them!! :D
Not much has happened this week. I worked monday thru wednesday nights. It went fairly well till the last 3 hours of the last shift when I got slammed with a last minute admit who was not doing well at all. I guess I got her straightened out.. but it left me with a stress headache that lasted until thursday night when I had a really relaxing bath.
Current Mood:

content
1. Lose 30 lbs.
Ok.. so I have slowed down in this area, but I did completely expect it. I am still making progress, but less of it. As of now I am up to 12.5lbs lost so far this year. I have managed to cut my post-summer gain by half! I am hoping to add some aerobics of something similar sometime soon.

2. Improve my financial standing. (Lets say: Reduce debt by $2000)
I just don't wanna talk about this... *sigh* Lets just say I still need to work on this area.

3. Keep up with my journal and food diary - at least on a weekly basis.
I kinda lost track of my journal there for a bit... but I am back on it now. As for my food diary... I have lost some days... but I am heading there after this to catch it up.

4. Organize 3 rooms in the house in the next 6 months.
I have only done one, but I have been busy. I will probably start rolling on my next one in the next couple of weeks.

5. Get 2 adult furniture pieces.
This one is completed! I got the hutch/filing cabinet in february, and our bedside tables were delivered today! Check one off of the list!! :D I will post some pictures in the next few days.



All in all I am pretty happy with my overall success. It is clear though, that I need to focus on the finances part in the next couple of months.
Current Mood:

mellow
Friday we went out and had dinner. After that we went shopping (read: walked around the shops... lol), and then came back home and played with our 'Sims'.
Saturday we played the game some more and then went out shopping again. We tried to order our bedside tables from Pottery Barn, but as it happens they do not carry them in the stores anymore - which doesn't make sense because they have them IN the store. *shakes head* I was pretty miffed after that. From there we went out to our sushi place... which was awesome! I love sushi! After that we got some 'Starbucks' and headed home to play with our 'Sims' again.
Sunday, I actually got myself together enough to get the place cleaned... though T did a lot of the work! We went out to her first Softball practice. She is playing for the MCC team for the Decatur Women's League. It was great getting to see some of the ladies again! After that we finished off cleaning the house and then trekked out to Athens again to see the Lady Dogs play. This was their final home game of the season and the place was stacked to the rafters since it was the UGA(#20)/Tennessee(#3) game. The ladies kept it REALLY close up and and until the last 11 minutes or so. They were actually leading at half time 29-26. Alas, the final score was 63-72, and UGA lost as expected. I was really proud of the girls though. They really played hard! One interesting thing was that it was seniors night... so all the seniors on the team got recognized for all their hard work. The senior girls were Darrah, Rowsey and Humphrey. Rowsey was injured in February and had to be taken out of the final weeks of games because she had to have surgery. The cool thing is that Humphrey played her number (#50) for the final game. I think that was a really classy move on her behalf. Megan Darrah broke some records as well last night. She is now tied with number of games played as a Lady Bulldog with Teresa Edwards at #10 with 128 total games. She is also tied at #5 with Kim Berry with number of 3-point field goal attempts with 442. All in all I am very pleased with how they played last night. I hope they carry that momentum into post season as they play Alabama in the SEC tournament on thursday.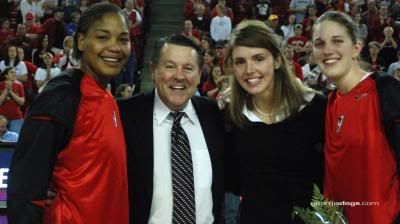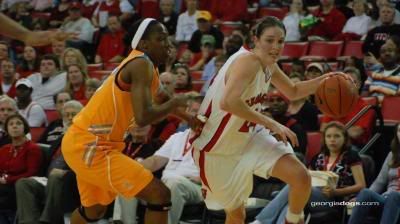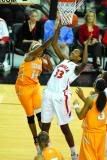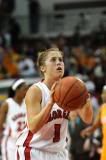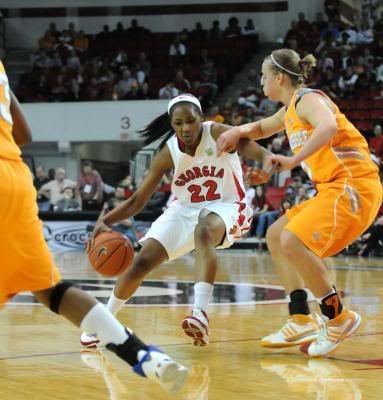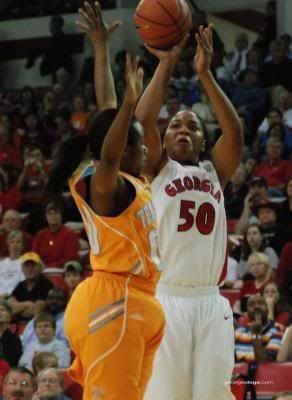 The first picture is of Andy Landers with Tasha Humprhey, Rebecca Rowsey, and Megan Darrah. The second picture is of Megan Darrah. The third is of Angel Robinson, who did a great attempt to slow Candace Parker down. The fourth is of Ashely Houts. The fifth is of Christy Marshall, who also played excellently! Finally sporting her injured co-seniors jersey (#50 - Rowsey) is Tasha Humphrey. Man do I ever hope she goes to the Dream in the post NCAA draft!! *fingers crossed*!
This week has also been busy. I ended up working extra on thursday, so my weekend didn't start until Friday.
Current Mood:

groggy

Current Music:

nothing at the moment


Other than that we went to the UGA vs Auburn game yesterday. This was their second to the last home game... and a really really important one at that! They played them a month ago and lost by 30 points, and Auburn is and was an unranked team! That was UGA's biggest loss of the season. So anyways to move up in the SEC, and help secure their pass to the NCAA playoffs they needed to win this game... and they did! They played AWESOME for the first 3/4ths of the game. They had some really good plays! It was really funny watching Angel and Ashley's moms watching. Man, does Angel's mom ever get into it!! It was a good thing that Angel was having a great night!! Anyways they kinda fell apart in the last 10 minutes, but managed to hold onto the 21pt lead to win it 68-56. On top of that - Tasha scored 22 points to increase her career points scored with UGA to 2201. This moved her into the no. 2 spot for highest points scored by any female basketball player while at GA, right after Janet Harris (who I believe played in the 80's)!! Yeah Tasha!! ;)
T and I had a good weekend! She took a vacation day on friday and we mostly messed around on the computers, and did some shopping/errands. I had been in a particularly bad mood because of situations beyond my control *read:PMS... lol*, and decided I needed something to take my mind off of my general irritation. I had been lamenting that there were no MMORPG's out that I wanted to play (Massively Multiple Online Role Playing Games). I love MMORPG's because T and I can play them together.. and because they are always new and interesting. Anyways we went to Target and were browsing their PC games section when this 15 year old guy behind us suggested SIMS. He ran a webpage on the game and was a huge fan. I feigned interest because I had always had a very negative image of that game, but then I noticed that they had a 'Season's' expansion - where you can decorate for the holidays. You know I can't pass that up! Anyways, we ended up buying the game and 3 expansions and played it most of the weekend. It was really really fun!
Current Mood:

tired

Current Music:

Cindi Lauper - True Colors
So here I am... three weeks later! I have not been able to post because I have been actively procrastinating studying for a test I had yesterday. I had a horrible week this week *pronounced by PMS*. Anyways, I am back and starting to get back into the swing of things!

So, to wrap up...

1. On Valentines day T got me this really cute card that read "For My Wife on Valentines Day". It was really cool. The day after she had multi colored roses delivered! They were really beautiful. That night though the cats knocked them over onto my keyboard and fried it.... so I got a keyboard too! *I can laugh about it now. I was pretty pissed at the time! The water sat on my new desk for a while and the very edge of it is kinda swollen up!* Anyways, the cats are still alive, so its all good!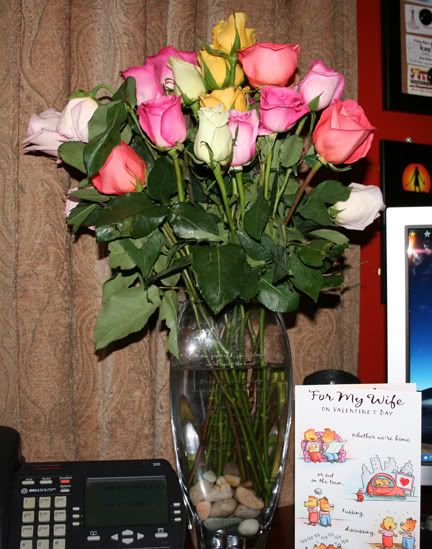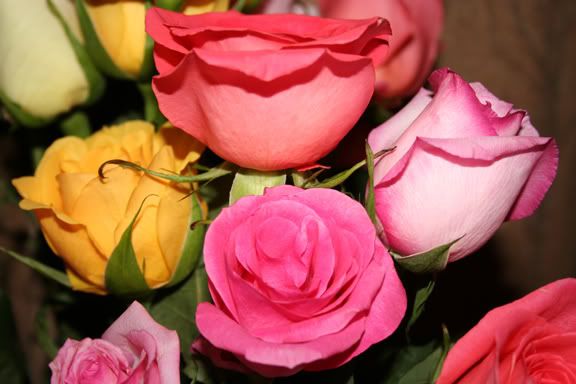 2. On Valentines day T, myself, and a friend of ours (Dot) went back out to Athens, GA to catch another 'Lady Dawg's' bball game. They played really well, and seemed to be more confident with their team chemistry. After an astonishing 32 points they took Tasha out of the game. By the end of the game all the starters were out, which was particularly awesome because we got to see Jaleesa Rhoden play. I have made her my official favorite player because she is from London! I met her last year and she seems like a really awesome person too... which is cool, because I would hate to have to pull for an asshole! ;) They were wearing their pink uniforms for breast cancer. It is a fund raiser or something that is put on by the NBCA. Pretty much all the women's basketball players were doing it across the country it seems. Anyways they won 85-66 and it was a great game!

The first 3 pictures are from the earlier game against LSU. They lost 63-57.. a nail bitter considering that Georgia is ranked #6 and LSU is ranked #4. Anyways they wore the pink uniforms! The 4th picture is UGA vs FLA.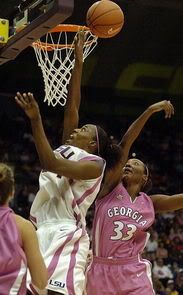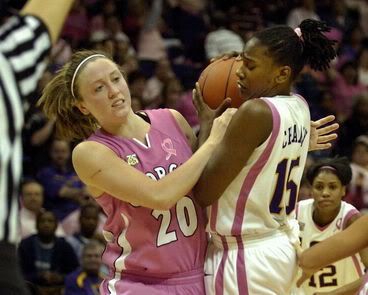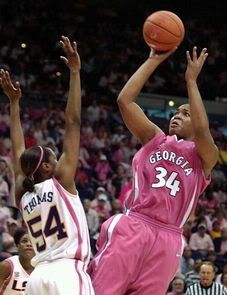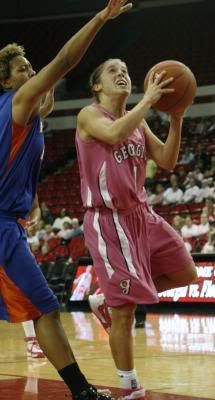 3. We got the roster for the Atlanta Dream. T and I were a little disappointed to see Ivory Latta on the list. She was a graduate last year.. and I just remember watching her gloating and prancing around on the court and thinking she was a jackass. I am hoping a year with the professionals have chilled her out. We shall see! Dot is pretty stoked, because Latta is one of her favorite players!

4. The last couple of weeks I have been orienting an experienced ICU nurse. I have found it rather challenging... as I normally do... because of my OCD nature. I have been working on my 'letting go'! I would say that I still have some work to do!

5. Last of all was CVD yesterday. I was totally wigging over it, but it turned out pretty well after my 'near all nighter'! I have promised myself *again* that I will start studying earlier next year!

I think that is the bulk of what happened this month. We are getting set to go out to Athens again on Sunday. But for today we have plans to go out and get T some free weights (my early anniversary gift to her, by request).. and perhaps some clothes for her to play soft ball in. Their first practice of the season is next week and she is getting pretty excited!
Current Mood:

accomplished

Current Music:

Bonnie Rait - I can't make you love me
For those of you who are not familiar with the Lady Dogs, the are the Women's College Basketball team from UGA. T and I have season's tickets to their home games, and we just got back from watching them play Vanderbilt. They actually lost by 7 points, but lord did they play well! I really enjoyed the game! They played really hard.. and it was a really aggressive game with lots of really cool plays. Ashley really seemed to be enjoying herself. She played better than I have seen her in a while! She is just playing with more confidence or something. Tasha played awesome as usual! Angela played all out and was really solid. Megan played really well too, and Angel had a lot better of a night than last Thursday! The fact that Tasha and Angela both fouled out is more of a reflection of the fact that it was such a physical game! I think that if they could have made their baskets more consistently they would have won easily! I can't even count how many of the balls circled the drain... and then popped back out!!

I really enjoyed the game, and am only sad that they aren't playing at home again until the 14th!!


Current Mood:

energetic

Current Music:

Sarah McLachlan - Full of Grace
Becoming a man in 127 easy steps
" was a solo play written and performed by Scott Turner Schofield. It was excellent! It had some really interesting life experiences, and involved the very small, intimate audience. I was amazed by his ability to pass.. it is rare that you see that. His blunt honesty about the process was very refreshing, and I know it had to be eye opening to many in the audience!
I would highly recommend this show if it tours near you!
So T and I went to a play with a few friends of ours. "
Current Mood:

mellow

Current Music:

The Cardigans - Lovefool